News
Madonna headlines Super Bowl show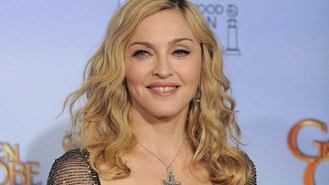 Madonna's performance at the Super Bowl's half-time show may have reminded viewers who is the true queen of pop - complete with throne - but the veteran singer did not have complete control of her show.
Guest singer MIA. flipped the middle finger to the audience after uttering a barely disguised expletive during a performance of Madonna's new single.
MIA was one of two guests who contributed vocals to the bubblegum pop song, Give Me All Your Luvin', along with Nicki Minaj.
Dance rockers LMFAO and singer Cee Lo also joined the half-time show.
Madonna seemed like Roman royalty when muscle-bound men carried her extravagant throne across the football field to the stage for her opening song, Vogue. The singing and dancing on that song was smartly choreographed, as Madonna moved more deliberately but still adroitly in moves that took into account that she is now in her 50s. She briefly appeared to stumble at one point while trying to make a step on the stage set, but recovered in time.
She let a tightrope walker make the more acrobatic moves during a performance of Music. That song was augmented by dance rockers LMFAO, who performed a snippet of Party Rock as Madonna joined them in a brief routine.
Madonna carried gold pompoms for a performance of her new single. Twitter was alight with questions about the vocals being lip synced or augmented by tapes, particularly during this song.
At the end of her lines, MIA appeared to sing "I don't give a (expletive)," although it was hard to hear clearly. Her extension of a middle finger to the audience was clearly visible, though. The camera shot briefly blurred after that, but too late.
The best guest was clearly Cee Lo, who joined Madonna for the final song, Like a Prayer. They were joined by a robed chorus in the show's most soaring performance.
With a puff of white smoke, Madonna disappeared down a trap door in the stage, and lights on the field spelled out "World Peace".
Source: music.uk.msn.com
Added by AutoAdmin
729 views