News
NBC sorry as MIA upstages Madonna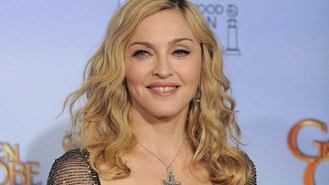 TV network NBC has apologised after British singer MIA upstaged Madonna at the US Super Bowl with a finger gesture and a barely-disguised expletive.
The incident came during a performance of Madonna's new single, Give Me All Your Luvin' during the Super Bowl half-time show in Indianapolis. At the end of her lines, MIA appeared to sing "I don't give a (expletive)", although it was hard to hear clearly.
The incident was reminiscent of Janet Jackson's infamous "wardrobe malfunction" eight years ago - a surprise risque moment in front of tens of millions of unsuspecting viewers.
The brief exposure of Jackson's nipple during the 2004 half-time show raised a storm of controversy and put then broadcaster CBS in hot water with America's Federal Communications Commission.
The Super Bowl, shown on NBC this year, is routinely viewed by more than 100 million people, the biggest TV event of the year. "We apologise for the inappropriate gesture that aired during half-time," NBC spokesman Christopher McCloskey said. "It was a spontaneous gesture that our delay system caught late."
The screen briefly went blurred after MIA's gesture in what was a late attempt - by less than a second - to cut out the camera shot. The National Football League (NFL), which produces the show, had no immediate comment.
MIA is best known for her 2007 hit Paper Planes, a Grammy nominee for record of the year that memorably features a sample of the Clash song Straight To Hell. It was featured on the soundtrack to the film Slumdog Millionaire.
Madonna had admittedly been nervous about her performance, hoping to position herself as the queen of a new generation of pop stars with an opulent show and a sharp performance that mixed her new release with more familiar songs.
She seemed like Roman royalty when muscle-bound men carried her extravagant throne across the football field to the stage for her opening song Vogue.
Guests Cee Lo, Nicki Minaj and dance rockers LMFAO also appeared with Madonna. The singing and dancing on Vogue was smartly choreographed, as Madonna, 53, moved more deliberately - but still adroitly. She briefly appeared to stumble at one point while trying to make a step on the stage set, but recovered in time.
Source: music.uk.msn.com
Added by AutoAdmin
739 views