News
Bieber thanks 'best fans in world'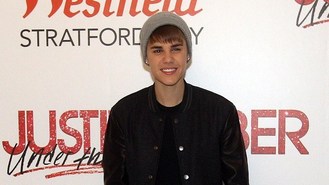 Justin Bieber hailed his fans as "the best in the world" after winning the 2012 Juno Fan Choice award.
The 18-year-old Baby singer accepted the accolade in a pre-recorded message at the 41st annual Canadian music gala awards ceremony.
Justin said: "What's up everybody? This is Justin. Fan choice. As we all know I have the best fans in the world, so this award is basically for all my fans. This is just yours."
Meanwhile, crooner Michael Buble was the surprise winner of the Juno Album of the Year award for his yuletide album Christmas, which beat pop sensation Justin's Under The Mistletoe, Drake's wildly popular Take Care, Avril Lavigne's Goodbye Lullabye and Nickelback's Here And Now.
Rockers Nickelback kicked off the ceremony in Ottawa, Ontario, with a performance of This Means War. But the 12-time Juno winners didn't take home a single gong, despite four nominations.
Canadian-born Captain Kirk himself, 81-year-old William Shatner, was the host with the most, impressing the crowd with his jokes, singing and acting.
The Star Trek icon poked fun at Deadmau5 - intentionally mispronouncing his name - before getting the crowd going by asking if they were "ready to rock".
Shatner then strapped on a Les Paul guitar and launched into a medley of a few bars of rock classics including Born To Be Wild, 'Summer of '69, and Taking Care Of Business in his trademark sing-speak manner.
He also gamely participated in comedy sketches with Nickelback and Hedley, playing the role of the delusional hanger-on, deadpanning his intention to become Nickelback's fifth member.
Adele's 21 won International Album of the Year and Indie-rock songstress Leslie Feist took home a Juno for Artist of the Year.
Source: music.uk.msn.com
Added by AutoAdmin
735 views