News
Kiwanuka: My voice didn't fit in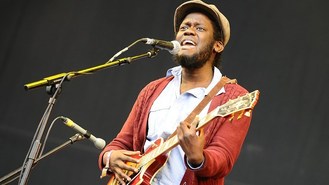 Michael Kiwanuka has confessed he didn't trust his own voice, because he didn't sound like the chart-topping singers he grew up listening to.
The 24-year-old Home Again singer's deep voice has been compared to Otis Redding and Van Morrison, and he was voted top in BBC's Best of Sound 2012. But growing up, he worried about not being able to imitate the higher-pitched tones of Usher and Justin Timberlake.
Michael said: "The people who were big when I was in my mid-teens were like Usher, and Justin Timberlake started coming out.
"And there's R&B singers who are amazing. And I would sing and it would sound not really like that at all... so people just found it weird. When I listened to it back on speakers for demos and stuff, it just sounded like nothing else that was around."
But after finding success in America, where he will perform at the Bonnaroo Music & Arts Festival in Manchester, Tennessee, alongside Radiohead, the Red Hot Chili Peppers and the Beach Boys, the young Londoner has learned to appreciate his individual gift.
He said: "When you're a teenager all you want to do is fit in. You don't want to be unique, which is bad and wrong. Actually that's what's so cool about life - everyone's different."
Source: music.uk.msn.com
Added by AutoAdmin
743 views