News
Furtado: I learned to love my body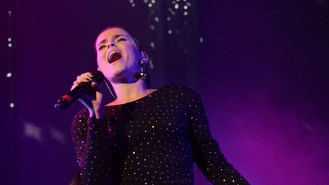 Nelly Furtado has revealed she is comfortable with her body, but admitted it has taken her a while to accept the image pressure of being in the public eye.
The 33-year-old singer - who once suffered a breakdown on stage - told the Evening Standard she had previously worried about how she looks, but has come to realise it is not so important.
Nelly revealed: "I can now look in the mirror naked and love myself."
She explained: "Over the past four years I've been on something of a journey about my body. I used to be like lots of people in this business, 'I need to go on the treadmill for the next photo shoot.' No, you need to train your body for the health of your heart. Not for how you look...
"It's a journey everyone goes on. I used to be, like, 'Woah!' looking at photos of myself on the red carpet, caring about how I looked. I don't any more. I don't even look at the pictures. There's no value in that."
She added: "I think body parts are powerful, so you've got to use them wisely. That's just how I was brought up. As I get older I've come into my body more and more and got more comfortable."
But she still worries about the effect of body image on her eight-year-old daughter and has banned cable TV, and limits the internet, at her home in Toronto.
Nelly said: "I encourage reading and critical thinking for my daughter. She's eight years old and I've started to teach her some media literacy already. I feel that it's really important that young men and women know about photo-shopping. They need to know everybody's airbrushed, squeezed, shrunk, no one fits into sample sizes - people get surgery to fit into those sizes, girls need to know that."
Source: music.uk.msn.com
Added by AutoAdmin
641 views