News
Lyrics struggle for Robert Plant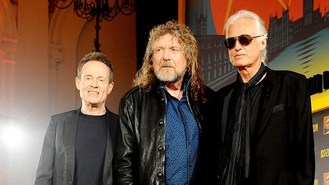 Led Zeppelin frontman Robert Plant admits he does not understand the lyrics of his band's most famous song, Stairway to Heaven.
The track is one of rock's most recognisable songs and regularly covered by budding guitarists.
Speaking at a press conference in central London today, Plant said: "I struggle with some of the lyrics from particular periods of time. The musicality and construction of it is peerless.
"Maybe I didn't quite feel the same about the lyrics a little bit later on in life, further on down the road.
"Maybe I'm still trying to work out what I was talking about. Every other f***** is."
The three surviving members - Plant, Jimmy Page and John Paul Jones - were reunited to promote their new DVD.
Drummer John Bonham died in 1980.
The band, who emerged from the ruins of 1960s' R'n'B band The Yardbirds, are one of the biggest outfits in the history of rock.They played to packed stadiums and sold millions of albums in their heyday in the 1970's and became legendary for rock 'n' roll excess.
Their new DVD, Celebration Day, is based on their 2007 tribute concert to Atlantic Records supremo Ahmet Ertegun.
Source: music.uk.msn.com
Added by AutoAdmin
802 views