News
Music royalty in Sandy benefit gig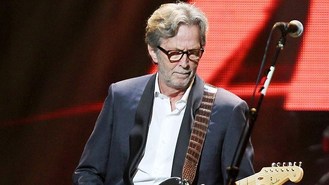 Music and comedy royalty struck a defiant tone in a benefit concert for Superstorm Sandy victims, asking for help to rebuild a New York metropolitan area most of them know well.
The sold-out Madison Square Garden show was televised, streamed online and aired on radio all over the world. Producers said up to two billion people could experience the concert live.
Comic and New Jersey native Jon Stewart said: "You can throw anything at us - terrorists, hurricanes. You can take away our giant sodas - it doesn't matter - we're coming back stronger every time."
Jersey shore hero Bruce Springsteen set a roaring tone, opening the concert with Land Of Hope And Dreams and Wrecking Ball. He addressed the rebuilding process in introducing his song My City Of Ruins, noting it was written about the decline of Asbury Park, New Jersey, before that city's renaissance over the past decade.
What made the Jersey shore special was its inclusiveness, a place where people of all incomes and backgrounds could find a place, he said. "I pray that that characteristic remains along the Jersey shore because that's what makes it special," Springsteen said.
He mixed a verse of Tom Waits's Jersey Girl into the song before calling New Jersey neighbour Jon Bon Jovi to join him in a rousing Born To Run. Springsteen later returned the favour by joining Bon Jovi on Who Says You Can't Go Home.
Movie funnyman Adam Sandler performed a ribald rewrite of the oft-sung Hallelujah that composer Leonard Cohen never would have dreamed. The rewritten chorus says, "Sandy, screw ya, we'll get through ya, because we're New Yawkers".
Sandler wore a New York Jets T-shirt and mined Donald Trump, Michael Bloomberg, the New York Knicks, Times Square porn and Jets quarterback Mark Sanchez for laugh lines.
The music line-up was heavily weighted towards classic rock, which has the type of fans able to afford a show where ticket prices ranged from 150 dollars to 2,500 dollars (£93 to £1,500). Even with those prices, people with tickets were offering them for more on broker sites, an attempt at profiteering that producers condemned as "despicable".
"This has got to be the largest collection of old English musicians ever assembled in Madison Square Garden," Mick Jagger said. "If it rains in London, you've got to come and help us." In fighting trim for a series of 50th anniversary concerts in the New York area, the Rolling Stones ripped through You've Got Me Rockin and Jumping Jack Flash.
Source: music.uk.msn.com
Added by AutoAdmin
917 views