News
Bonehead weighs up Oasis reunion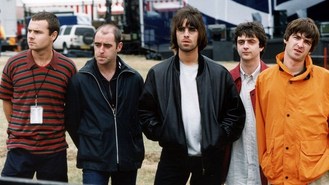 Former Oasis guitarist Paul Arthurs has discussed the likelihood of the band reuniting.
The band split in 2009 amid reports of a feud between brothers Noel and Liam Gallagher. But there has been talk of a possible reunion in 2014 to mark the 20th anniversary of their debut album Definitely Maybe.
Paul - aka Bonehead - who quit the band in 1999, told NME magazine: "If someone said, 'Here's a field, here's a stage and here's 200,000 people,' I'm sure Liam would jump up and do it, and I don't think it would even take anyone offering him a massive bankroll of money. He'd do it because that's what he loves, that's his passion."
Bonehead recently joined Liam's new band Beady Eye at a tribute gig to the late Charlatans drummer Jon Brookes, where they performed a number of Oasis tracks.
But the guitarist admitted a reunion still looked unlikely as Noel is not keen
Bonehead said: "As far as Noel goes, I saw him in Glasgow with the High Flying Birds, but we didn't speak about reunions... With Noel, I only know what I read in the press, and from what I read it sounds like a 'no'."
Noel told Rolling Stone magazine last year: "We are split up. Yeah, so, ergo, band splits up, band is no more. There is no band. So, no, I won't be getting involved, anyway. If there is a reunion, I won't be in it."
Younger brother Liam confessed last year: "I'd do it for nowt, but if someone's going to drop a load of f***ing money, I'd do it for that too."
Source: music.uk.msn.com
Added by AutoAdmin
592 views