News
Goulding features in Sheeran song?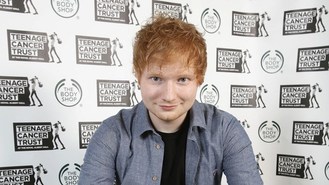 Ed Sheeran has apparently written about ex Ellie Goulding with his new song Don't.
The Lego House singer said that the track, which is about a girlfriend cheating on him with a mutual friend, is based on past experience, but stayed tight-lipped about the female's identity.
"The story in Don't is 100 per cent true. I could have gotten nastier - there was more s*** that I didn't put in," he told Billboard.
"I was seeing someone for a bit of time, and then they ended up physically involved with one of my friends in the same hotel that we were staying in, while I was downstairs. And I feel like: Treat people how you want to be treated."
Ed and Ellie dated for a few months in 2013. The song sparked speculation that it is about the Brit-winning singer, because one of the lyrics read, "We make money the same way... You were looking for a lover to burn," in a possible reference to Ellie's hit, Burn.
Ed remained unrepentant about the track, saying: "If you date a songwriter, be prepared to have songs written about you. If you do nice things, you'll have nice songs. And if you do f***ed-up things, you'll get a horrible song."
The 23-year-old's second album X will be released on June 23. As well as Don't, it also features Sing, which was recorded with Pharrell Williams.
"The last album was more young and dewy-eyed and innocent," Ed said. "I've still got very nice songs on this record. But some of them are bite-y."
Source: music.uk.msn.com
Added by AutoAdmin
709 views