News
Lily Allen: I missed my freebies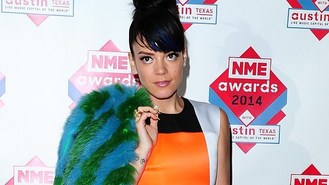 Lily Allen has revealed part of the reason for her musical return was for the perks.
The 28-year-old, who releases her third album Sheezus on May 2, admitted she missed the thrill of being on the stage as well as the freebies.
She told UK Glamour: "I wasn't good at staying at home all day, it didn't suit me. I'm creative, it's just who I am... I missed the positive feedback about my music from my fans. I missed the rush of performing. I missed the free clothes and handbags and the good tables in posh restaurants. I did!"
Lily admitted she feels "betrayed" when other women take a swipe at her and her outspoken songs.
"I do feel betrayed by my sex... People have got their own agendas these days. It's obvious when it's about ego and them wanting to sound clever. It's sad. Exhausting," she continued.
"Your own sex, in the name of feminism, hitting you back down. But I'm not gonna censor myself. I'm not gonna be beige."
The married mother-of-two also expressed regrets over her feud with Cheryl Cole. The pair fell out after the Girls Aloud star called Lily "a chick with a d***" and Lily responded with a diss track called Cheryl Cole.
"I wish that whole thing hadn't happened. I like Cheryl," she told Q magazine. " She's good on The X Factor, she's pretty and she's got balls. I like women who do well."
But Lily added her row with rapper Azealia Banks inspired Sheezus.
She admitted: "I got angry and it ignited a creative flame - thanks, b****."
Source: music.uk.msn.com
Added automatically
1017 views