News
Cellist Lloyd Webber set to retire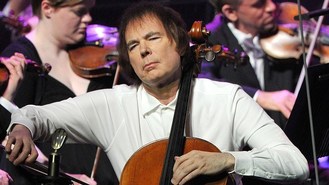 Julian Lloyd Webber is to retire from performing as a result of a medical problem which has restricted his ability to play.
The 63-year-old cellist - brother to composer Andrew - said he was "devastated" to end his career as a musician, which will end with a final performance next week.
Lloyd Webber explained that he has a " herniated disc" in his neck which has reduced the power in his right arm in which he holds his bow.
He has been one of the foremost British cellists for many years and his recordings have included an acclaimed version of Elgar's Cello Concerto, and one of his performances became a TV staple when it featured as the theme to arts series The South Bank Show.
Four-times married Lloyd Webber said: "I am devastated. There were so many exciting plans that cannot now come to fruition.
"I have had an immensely fulfilling career and feel privileged to have worked with so many great musicians and orchestras but now I have to move on."
His last concert as a performer takes place at the Forum Theatre, Malvern, with the English Chamber Orchestra on May 2, but he said wants to continue to contribute to the music world.
He went on: "I have no intention of enduring a forced retirement though. I would like to use the knowledge I have gained through my life as a musician and an educator to give back as much as I can to the music profession which has given me so much over the years.
"I have just completed two new recordings which will be released later this year but after May 2 my cello will fall silent. I now need time to reflect and to consider this sudden and distressing life-changing situation and there will be no further comment at this time".
His brother Andrew - who composed Variations which went on to be known as The South Bank Show theme - said: "I am devastated by my brother's news. I have known of Julian's difficulties for some while and, like him, I was hoping this would not come to pass. Music has lost one of its finest performers."
Source: music.uk.msn.com
Added automatically
870 views