News
Daltrey hoping for Johnson revival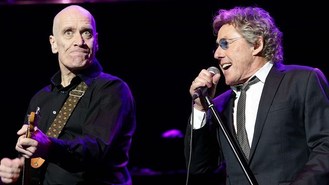 Roger Daltrey has said he aims to record a further album with Wilko Johnson if the guitarist recovers from his pioneering cancer operation.
Johnson underwent extensive and complicated surgery almost a fortnight ago to deal with his pancreatic cancer, which also involved the removal of large sections of his digestive system.
Daltrey said his pal is "doing really well" and there are hopes of a second musical collaboration, to follow their top three album Coming Back Home.
Former Dr Feelgood musician Johnson played farewell concerts last year and believed he had just months to live following his cancer diagnosis.
But medics were amazed that despite his decision to refuse treatment, the 66-year-old's health did not deteriorate at the expected rate. T ests recently showed that the cancer was not as aggressive as had been initially feared and there are hopes that the groundbreaking operation could lead to a full recovery.
Daltrey said last night: "H e's lost an awful lot of his body but he's still here. He's doing really well, he's getting out of bed and grunting which is exhilarating for him I'm sure and we look forward to him making a full recovery which is going to take a long long time - but if he does we are going to make part two of the record.
"There is a chance (of a full recovery). It's an operation that's never been tried before. It's an experiment, his whole life has been an experiment."
The nine-hour operation at Addenbrooke's Hospital in Cambridge involved the removal of Johnson's pancreas, spleen, a section of his stomach and intestines and some of the blood vessels to his liver.
Daltrey spoke as he attended the Radio Academy Awards in London for which he was presenting Radio 2 with the UK station of the year prize.
Source: music.uk.msn.com
Added automatically
875 views