News
Macaulay Culkin booed off stage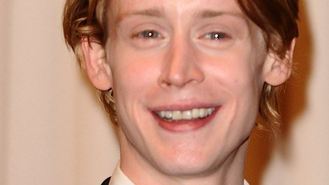 Macaulay Culkin and his band were forced to flee the stage at a UK gig after the crowd began throwing pints of beer at him.
The former child star - who made his name in the Home Alone films in the 90s - is touring Britain with his novelty band The Pizza Underground, who play Velvet Underground songs with pizza-themed lyrics.
But Macaulay, 33, and the band were met with boos at Rock City in Nottingham, according to the BBC, and left the stage after just 15 minutes when the crowd began throwing glasses at the stage.
The Uncle Buck star apparently asked the crowd: "Why are you throwing those? I'd rather drink them."
They later tweeted: "Thank you so much Nottingham. Sorry that a couple [of] people ruined it for everyone."
The band were performing at the Dot to Dot festival - where the audience do not know what acts they will be watching.
Audience member Patrick Mendes defended his behaviour online.
"I'm glad I lobbed a pint and I'm glad it hit you," he wrote on the group's Facebook page. Complaining about their "mockery" of "one of the greatest bands of all time", he added: "Great art should never be compromised".
Another fan told the Nottingham Post: "It just sounds awful. I can't believe he is doing this. Why bother? It must go down well in America or something."
But other gig goers were apologetic.
Mark Chadwick wrote on Facebook: "May I apologise on behalf of the Nottingham folk. Was loving you guys, and the free pizza! So so sorry, would love to have you back."
Macaulay joined The Pizza Underground in 2012, performing parody songs such as Take a Bite of the Wild Slice - a take on Lou Reed's Walk on the Wild Side and All The Pizza Parties - spoofing Velvet Underground's All Tomorrow's Parties.
The quintet has a percussionist who plays a pizza box and they often hand out slices of pizza to their audience.
Their recent Manchester gig was similarly unsuccessful, with the crowd throwing glasses and invading the stage.
The organisers of the Dot to Dot festival said: "It's such a shame that some members of the crowd had to ruin what was set to be an excellent show. A sentiment echoed by the band themselves.
"Hopefully they'll get to play in Nottingham again one day soon."
Source: music.uk.msn.com
Added automatically
1067 views