News
Lennon's artwork, poems auctioned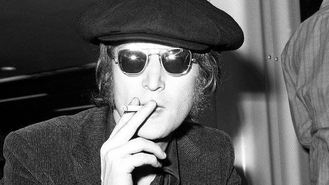 John Lennon's whimsical drawings, poems and short stories from two of his books fetched huge prices at auction, including 209,000 US dollars (£124,700) for a nine-page parody of Sherlock Holmes.
The manuscript, The Singularge Experience Of Miss Anne Duffield, was the top lot in the sale and had been estimated to bring 50,000 to 70,000 dollars (£29,000 - 41,000).
The material was created for the two critically acclaimed books the late Beatle published during the height of Beatlemania. Sotheby's said 100 per cent of the 89 lots sold, with 83 per cent selling above the pre-sale high estimate.
In his Own Write was a collection of 31 short stories and poems full of puns and spelling errors that was published in 1964. It was a big hit with reviewers who compared Lennon to Lewis Carroll and Edward Lear.
It was followed a year later by A Spaniard In The Works, its title a pun on the British term "a spanner in the works".
The collection belonged to Lennon's British publisher, Tom Maschler, who held on to it for a half-century.
Sotheby's described it as the largest private collection of the Beatles' work to come to market.
Before becoming famous as a musician, Lennon, who was fatally shot in 1980, trained as an artist at the Liverpool School of Art.
The Fat Budgie, a beloved nonsensical poem with the title written on the margin, went for 143,000 US dollars (£85,300). It had been estimated to bring up to 35,000 dollars (£20,000).
A handwritten manuscript called I Sat Belonely went for 137,000 (£81,700), when it had been expected to fetch around a quarter of that price. A corrected typescript titled Neville Club sold for 100,000 (£59,600), way above its estimate of 12,000 dollars.
Maschler called Lennon a man of "extraordinary talent and imagination". He said in a statement that Lennon's art has been underrated and he hoped that the auction would "redress the balance".
Maschler, who worked with Lennon on the two books while literary director at Jonathan Cape publishers, has worked with other famous authors, including Tom Wolfe, Edward Albee, Philip Roth and Salman Rushdie.
Source: music.uk.msn.com
Added by AutoAdmin
520 views