News
Swift: Music industry isn't dying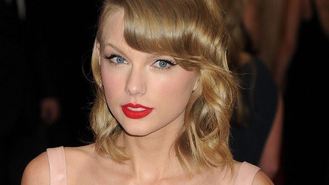 Taylor Swift has said she doesn't think that the music industry is dying out from recent changes - in fact it is just coming alive.
The Red singer wrote a piece for the Wall Street Journal in which she explained what she thought the future of the music industry would be, in the face of pirating, digital downloads, online streaming and declining album sales.
She wrote: "Before I tell you my thoughts on the matter, you should know that you're reading the opinion of an enthusiastic optimist: one of the few living souls in the music industry who still believes that the music industry is not dying... it's just coming alive."
Taylor added: "There are always going to be those artists who break through on an emotional level and end up in people's lives forever. The way I see it, fans view music the way they view their relationships.
"Some music is just for fun, a passing fling (the ones they dance to at clubs and parties for a month while the song is a huge radio hit, that they will soon forget they ever danced to). Some songs and albums represent seasons of our lives, like relationships that we hold dear in our memories but had their time and place in the past...
"However, some artists will be like finding 'the one'. We will cherish every album they put out until they retire and we will play their music for our children and grandchildren. As an artist, this is the dream bond we hope to establish with our fans.
"I think the future still holds the possibility for this kind of bond, the one my father has with the Beach Boys and the one my mother has with Carly Simon."
She also predicted: "In the future, artists will get record deals because they have fans - not the other way around."
However, Taylor reckoned some things would never change: "There will always be an increasing fixation on the private lives of musicians, especially the younger ones. Artists who were at their commercial peak in the '70s, '80s and '90s tell me, 'It was never this crazy for us back then!' And I suspect I'll be saying that same thing to younger artists someday (God help them).
"There continues to be a bad girl vs good girl/clean-cut vs sexy debate, and for as long as those labels exist, I just hope there will be contenders on both sides. Everyone needs someone to relate to."
Source: music.uk.msn.com
Added by AutoAdmin
530 views