News
Lana Del Rey: I feel like I'm crazy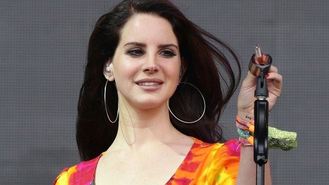 Lana Del Rey has said she feels crazy and that she doesn't make music for anyone else but herself to listen to.
The Born To Die singer spoke to Rolling Stone magazine about her state of mind after a recent interview with the Guardian in which she said "I wish I was dead already".
She told Rolling Stone: "Well, I feel f***ing crazy. But I don't think I am. People make me feel crazy. I find that most people I meet figure I kind of want to kill myself anyway. So, it comes up every time."
Lana also tried to put off being the cover star at one point in the interview, saying: "I'm not sure if they should run this story. I feel like maybe we should wait until there's something good to talk about. You know? I just wish you could write about something else. There has to be someone else to be the cover story. Like, there has to be. Anybody."
Asked how she wanted people to hear lyrics like "he hurt me and it felt like true love", she replied: "I just don't want them to hear it at all. I'm very selfish. I make everything for me, kind of. I mean, every little thing, down to the guitar and the drums. It's just for me... I don't want them to hear it and think about it. It's none of their business."
Lana also spoke about her performance on US show Saturday Night Live, where she came in for heavy criticism, admitting: " It wasn't dynamic, but it was true to form."
She added that music industry friends had pulled away from her after the performance: "Everyone I knew suddenly wasn't so sure about me. They were like, 'Maybe I don't want to be associated with her - not a great reputation'."
Source: music.uk.msn.com
Added automatically
902 views