News
JB Gill: Solo career is on hold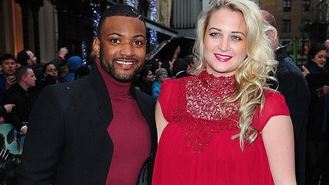 JB Gill has revealed his solo career is on the backburner.
The former JLS singer, who is expecting his first child with wife Chloe Tangney, admitted he isn't focused on pursuing his own music for the time being.
"There's no immediate plans for me to have a solo career. But I've been in the studio," he said.
"I've been a big fan of songwriting and I really enjoy it. We all used to write our own songs before we split as part of JLS and I want to continue doing that."
JB has been collaborating with up-and-coming singer Mike Hough.
"It's refreshing. It's nice for me to take a bit of a backseat from the performance and focus on the heart and core of music," he added.
The 27-year-old also revealed how he cannot wait to become a father.
"I'm actually quite daunted to be honest but it's just so exciting, watching the whole process with my wife Chloe and seeing how her body has developed and what she's going through," he shared.
"Once the moment and the baby is here, it's going to be so exciting, showing it off to the family, getting to grips with managing the baby and looking after it. I can only imagine how rewarding it is to be a parent."
He added: "We don't know whether it will be a boy or a girl yet. We're trying to keep it as much as a surprise as possible, just really to enjoy it with our family. But we're excited. We're slowly getting prepared - we're looking to set up the nursery and get the home baby-proofed."
Source: music.uk.msn.com
Added automatically
829 views