News
Biffy Clyro praise Arctic Monkeys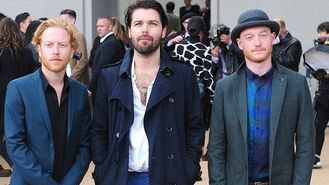 Biffy Clyro have said they wish more bands were like the Arctic Monkeys and have praised how much music they produce.
The T In The Park headliners were on Zane Lowe's BBC Radio 1 show choosing their highlights from the festival and went with fellow headliners Arctic Monkeys.
According to NME, frontman Simon Neil said: "People can forget how productive they've been. Really, they haven't stopped at all. To still have that evolution in this record, to really take a huge step sideways and forward, it's opened up the possibilities for the next 10 years for them as well. I wish all British bands were like this."
Simon's bandmate, drummer Ben Johnston also admitted that sometimes the band need a reminder of their own songs: "We played Ireland a couple of shows recently, and we played Hero Management from the first record, and I don't know how truthful I should be here but in the practice room we had to get our iPods out."
Simon agreed: "The amount of brain cells I've killed over the years. I messed up words, actually, I forgot the second verse of Victory Over The Sun at T on Friday and it's always when I least expect it, because the songs that I think I don't know, that we haven't played in a while inevitably are perfect, and there's only a certain amount of room for a number of songs in my little brain, so whenever I write a new song it normally pushes an old one out."
Source: music.uk.msn.com
Added automatically
887 views