News
Iggy's fall freaked me out: Charli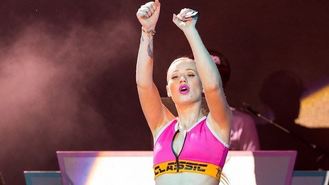 Iggy Azalea kept rapping as she fell off the stage in the middle of a performance, according to her collaborator Charli XCX.
The Stevenage-born singer, who scored a huge hit with Australian rapper Iggy with their single Fancy, said she was worried she would have to take over from her pal during the show.
The pair were treating fans to a concert at Los Angeles club Avalon the day before the MTV Video Music Awards when Iggy plunged off the stage midway through their hit.
Speaking on the red carpet at the VMAs, Charli said she was stunned when she saw it happen.
"I was freaking out and thought 'I hope I don't have to finish the rap', that was what was going through my mind. But she fell and she was fine, she kept rapping as she fell and then she killed it and it was great."
However she said Iggy walked away without a scratch: "It was cool, she was fine afterwards. She wasn't hurt and that's the main thing."
Charli, who scored her first UK top ten hit in July with her solo song Boom Clap, sported a skintight leopard print jumpsuit by Moschino for the awards show and said it was easy for her to get dressed.
"I feel like I'm more drawn to this wild atmosphere, dressing for this is like waking up for me every day."
The VMAs will air on MTV UK on Monday at 9pm.
Source: music.uk.msn.com
Added automatically
881 views