News
Prince to release two new albums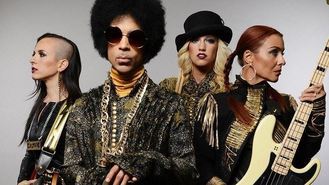 Prince will release two new albums in September.
Art Official Age, a "classic" solo album by the Purple Rain star, and Plectrumelectrum - featuring the musician and his new band3RDEYEGIRL - will both be unveiled on September 29. They mark his first new music since 2010's 20Ten.
The 56-year-old rocker took over New York's Times Square to make the announcement, while his bandmates Donna Grantis, Hannah Ford Welton and Ida Nielsen appeared on Good Morning America to discuss the simultaneous releases.
"It's so awesome because it's actually a double surprise. One of them is a Prince solo album called Art Official Age and the other is the one we play on called Plectrumelectrum," revealed drummer Hannah.
Bassist Ida said: "It's such an incredible learning experience. Everyone knows the genius of Prince, so to be able to be hands-on on a daily basis, playing with the best musicians in the world and becoming a family. We're really tight and it makes the music that much better."
The releases mark a historic return to Warner Bros Records, Prince's original label home.
Warner Bros Records chairman and CEO Cameron Strang said: "Prince is one of just a handful of visionary artists who have truly reshaped and redefined modern music and culture. For the past 35 years, he has never stopped evolving, challenging himself, reinventing his sound, and pushing boundaries.
"In true Prince fashion, he has just given us not one, but two extraordinary albums that express the incredible range and depth of his talent. All of us at WBR are immensely proud to be working with Prince to bring this brilliant new music to his legions of fans around the world."
Both albums, which are sold separately, are available for pre-order from online retailers and www.artofficialage.com.
Source: music.uk.msn.com
Added automatically
845 views