News
Miley: I've retired from twerking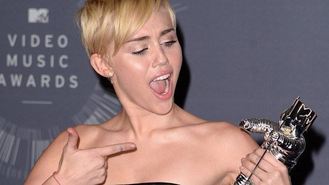 Miley Cyrus has claimed she's giving up twerking - and is moving on to a different "psychedelic'"style of music.
The singer and actress is only 21 and the image of her twerking in a skin-coloured latex bikini with Robin Thicke at the MTV VMAs last year is burned into the memory of the audience forever.
But Miley revealed at this years Video Music Awards that she is handing over the twerking baton to Nicki Minaj, after her eye-popping performance of Anaconda - which beat Miley's Wrecking Ball's record for the most views in 24 hours.
Miley told MTV: "With that ass... I ain't got that ass. I can bring that body, I can bring that wrecking ball, but I can't bring that ass. Not that Anaconda."
She added: "I've retired [from twerking], yeah. I'm making some music right now with The Flaming Lips. It's different. It's a little psychedelic.
"I live to be in the studio, that's my favourite part, is bunkering down, working on a record. This record might take me five years. I don't know. I'm just going to work on it until I'm done.
"It's not about twerking - it's about music."
Meanwhile, the former child star - who wore a black PVC crop top and matching trousers to the awards - also revealed she is launching a new charity initiative to help the homeless, inspired by last year's twerking frenzy.
Miley - who brought former homeless man Jesse as her date to promote charity My Friend's Place, and sent him up on stage to collect her award - is launching a Prizeo campaign, urging her fans to donate to the cause assisting homeless youth.
She said: "I think what I realised after my last performance at the VMAs, I didn't realise my platform, I didn't realise my power and I didn't realise my voice and how loud it is.
"And I thought, you know, rather than sit here and talk about, 'Oh, on every news cover, every time you go to AOL or wherever you go everybody's sitting there talking about me,' instead of using it as a negative, how can I use it as a positive? If I'm going to be speaking this loud, what am I trying to scream at the world? And this is it. It's kind of a wake-up [call], which is what I had to do."
Miley said the high of winning awards and memorable performances doesn't last long, unlike her charity work.
"This fills you up and it feels good for a long time... I feel incredible today. I feel like I have a jet strapped to me and I am ready to take off from this.
""I feel like there's a way that I can incorporate everything I do in the future around youth homelessness... It just gives me more of a purpose. I tell everybody, I mean, dying a pop star is not what I want to have on my tombstone."
MIley is asking fans to donate five US dollars (£3) before September 21, which will enter them in a raffle. Winners will meet Miley at her September 28 concert in Rio de Janeiro.
"I can't really stop until I reach this goal... I just want to give my fans a real reason to use their power for much more than a VMA," she said of winning the fan-voted award Sunday night.
The former Disney star said though she's working on new music, she's not pressuring herself to match her previous success or rush out new material to build momentum.
"With anything right now, I am just focusing on being the happiest and the best I can be because there were years I had to give out a lot of energy and now it's taking it all in," she said. "I just haven't been giving myself any kind of pressure. I grew up where I had pressure as a kid to work and to always have the next record... and it's not really about that for me any more."
"I'm really happy. I'm in the best place," she continued. "I'm just in constant gratitude of life. I'm in the happiest spot I've gotten to be in. I'm just beyond."
Source: music.uk.msn.com
Added automatically
853 views