News
Kate Bush albums climbing charts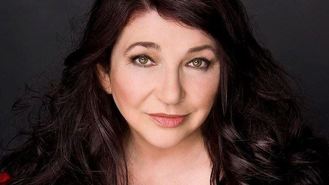 Kate Bush's records are set to return to the charts as she returns to the stage with 11 albums re-appearing in the top 100.
The singer returns to the stage tonight (August 26) - 35 years after her only tour - when she kicks off a 22-show run at the Hammersmith Apollo in west London, the same venue where she effectively retired from live performances after six weeks on the road in 1979.
Tickets for the 56-year-old's comeback gigs sold out in less than 15 minutes after they were announced in March.
Sales figures from the Official Charts Company show that all nine studio albums and two compilations have been given a sales boost by the gigs.
Her greatest hits collection The Whole Story, which hit number one on its release in 1986, is currently number eight, followed by 1985's Hounds Of Love at Number 14.
Her 2011 collection 50 Words For Snow and her 1978 debut The Kick Inside are at 32 and 33 respectively and 1989's The Sensual World is at Number 41.
Further down the chart are The Red Shoes, Never For Eve, The Dreaming, Director's Cut, Lionheart and Aerial.
Bush has requested fans do not take photos or film during the shows, saying she deliberately chose "an intimate theatre setting" for her return to live performance.
She said: " It would mean a great deal to me if you would please refrain from taking photos or filming during the shows.
"I very much want to have contact with you as an audience, not with iPhones, iPads or cameras. I know it's a lot to ask but it would allow us to all share in the experience together."
The concerts mark the singer's return to the stage more than three decades after her one and only tour.
She was just 20 when she completed The Tour Of Life with three dates at what was then called the Hammersmith Odeon, after topping the charts with Wuthering Heights the previous year, becoming the first woman to go to number one singing one of her own songs.
Over the years, theories about her absence from the stage have included her perfectionism, a fear of flying and the death of one of the tour crew, lighting director Bill Duffield, during a show.
But in a rare interview with Mojo magazine in 2011 to mark a comeback from one of her lengthy recording silences, Bush explained that her years of absence from the touring circuit were simply down to the sheer exertion of the ordeal. Her shows relied heavily on dance and mime.
''It was enormously enjoyable. But physically it was absolutely exhausting,'' she said. ''I still don't give up hope completely that I'll be able to do some live work, but it's certainly not in the picture at the moment because I just don't quite know how that would work with how my life is now.''
Source: music.uk.msn.com
Added automatically
816 views