News
Rave reviews as Bush wows critics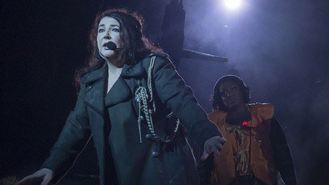 Kate Bush's return to the concert stage after 35 years has gone a storm with critics and fans alike who hailed her performance as "spellbinding".
The 56-year-old may no longer be able to hit the high notes of her teenage years and has cut back on the dancing, but she proved she still knows how to put on a show.
Bush was kicking off her Before The Dawn "tour" - 22 shows at the Hammersmith Apollo in west London, the venue where she effectively retired from live performances after six weeks on the road in 1979.
More than 80,000 tickets for her comeback gigs sold out in less than 15 minutes after they were announced in March, with some advertised for up to £1,000.
The first night, which had been described as "the musical event of the decade", saw Bush walk on stage dressed in black to a massive roar from the crowd.
After opening with Lily, followed by Hounds Of Love and Running Up That Hill, a dancer came on stage, cannons fired smoke and confetti into the crowd and she moved into a dramatised version of the Ninth Wave suite of songs from the Hounds Of Love album.
Actors dressed as fish, a helicopter rescue with searchlights on the audience, and a domestic scene involving toad in the hole followed in a typically Kate Bush spectacle, accompanied by backing singers and a seven-strong band.
Critics were resounding in their praise of the singer today, with Andy Gill, for the Independent, giving her a five-star review. "It's quite stunning, undoubtedly the most ambitious, and genuinely moving, piece of theatrical pop ever seen on a British stage," he said.
Alexis Petridis, writing for the Guardian, said the singer delivered a "spectacular" show. "Bush theoretically had a lot to lose by returning to the stage," he wrote.
"Clearly, given how tightly she has controlled her own career since the early 80s, she would only have bothered because she felt she had something spectacular to offer. She was right: Before The Dawn is another remarkable achievement."
For her encore in a three-hour show Bush performed solo song Among Angels at the grand piano, followed by crowd-pleaser Cloudbusting.
The star, who introduced her teenage son Bertie as one of the performers, told the audience at the end: "Thank you so much for such a wonderful, warm and positive response."
There was nothing from her early albums - not even Wuthering Heights - but her fans did not seem to mind.
Kyla Fox, 41, who had travelled from Newcastle, said: "We've just heard musical history. I dreamt of this but never thought I'd see it. This was on my bucket list."
Long-term fan Natalie Russell, 44, of Bishop's Stortford, Hertfordshire, said it was the "best gig I've ever been to".
"It's like a West End show. I've been waiting 35 years for this."
Michael Anmuth, 46, had come all the way from San Francisco, and said: "It was worth travelling this far because I've waited forever to see her. It has cost me a lot but it's definitely worth it."
Bush had asked fans not to take photos or film during the shows, telling them she wanted to "have contact with you as an audience, not with iPhones, iPads or cameras".
Unusually, for a modern concert, they respected her wishes.
Among the famous faces in the crowd were Lily Allen, Gemma Arterton and Pink Floyd guitarist David Gilmour, who spotted her talent as a teenager.
Bush, a doctor's daughter from Kent, was just 20 when she completed The Tour Of Life with three dates at what was then called the Hammersmith Odeon.
She had topped the charts with Wuthering Heights the previous year, becoming the first woman to go to number one singing one of her own songs.
It has been revealed that her records are again climbing the charts.
Sales figures from the Official Charts Company showed that all nine studio albums and two compilations have been given a sales boost by the gigs.
Source: music.uk.msn.com
Added automatically
897 views