News
Fan defies Bush's pleas over video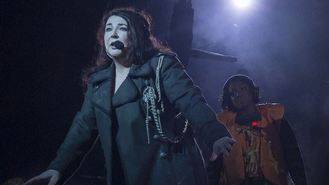 Footage from the first night of Kate Bush's comeback gigs has surfaced online despite the star's plea to her fans not to film the show.
The singer told fans it would "mean a great deal" if people did not use their phones or computers during the concerts, but at least one gig-goer ignored the request, filming a two-minute clip of her performing the final song of the night, Cloudbusting.
The recording, published on YouTube, got a mixed response with one fan telling the person who filmed it that "clearly someone had no respect for her or what she does".
Another fan said: "Poor video, poor audio, why did you bother? And isn't this typical of the selfish world we find ourselves in; no respect for others' wishes at all."
But other fans were happy to see the clip, with one saying: "Thank you so so much for sharing this video.
"Not like most of you, I knew about Kate only four years ago and obviously became one of her fans. I'm only 17 and I feel so lucky, lucky enough to see her on stage like this for the first time because I couldn't afford the tickets."
Bush's return to the stage after 35 years went down a storm with critics and fans alike, who hailed her performance as "spellbinding".
More than 80,000 tickets for her Before The Dawn "tour" - 22 shows at the Hammersmith Apollo in west London, the venue where she effectively retired from live performances after six weeks on the road in 1979 - sold out in less than 15 minutes after they were announced in March.
The first night saw Bush , accompanied by backing singers and a seven-strong band, open with Lily, followed by songs including Hounds Of Love and Running Up That Hill.
Suddenly a dancer came on stage, cannons fired smoke and confetti into the crowd and she moved into a dramatised version of the Ninth Wave suite of songs from the Hounds Of Love album.
Scenes of Bush wearing a lifejacket - filmed in a flotation tank at Pinewood Studios - actors dressed as fish, a helicopter rescue with searchlights on the audience, and a domestic scene involving toad in the hole followed in a typical Kate Bush spectacle .
Critics were resounding in their praise of the singer, with Andy Gill, for the Independent, giving her a five-star review. "It's quite stunning, undoubtedly the most ambitious, and genuinely moving, piece of theatrical pop ever seen on a British stage," he said.
The star, who introduced her teenage son Bertie as one of the performers, told the audience at the end: "Thank you so much for such a wonderful, warm and positive response."
There was nothing from her early albums - not even Wuthering Heights - but her fans did not seem to mind.
Kyla Fox, 41, who had travelled from Newcastle, said: "We've just heard musical history. I dreamt of this but never thought I'd see it. This was on my bucket list."
Michael Anmuth, 46, had come all the way from San Francisco, said: "It was worth travelling this far because I've waited forever to see her. It has cost me a lot but it's definitely worth it."
Among the famous faces in the crowd were Lily Allen, Gemma Arterton and Pink Floyd guitarist David Gilmour, who spotted Bush's talent when she was a teenager.
Bush, a doctor's daughter from Kent, was just 20 when she completed her previous tour, The Tour Of Life, with three dates in 1979 at the same venue, then called the Hammersmith Odeon.
Source: music.uk.msn.com
Added automatically
1012 views