News
Grande 'grieving' at meet and greet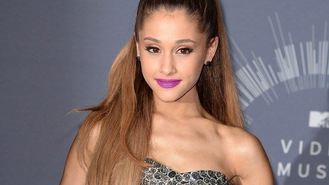 Ariana Grande has explained that the reason why she was short with fans at a recent meet and greet was because she was still grieving for her grandfather.
The Problem singer angered fans by seemingly not making an effort with them when they turned out to meet their idol, leading one disgruntled dad to write a blog post about his child's disappointing experience.
He wrote: "She spent perhaps 15 seconds with each of them. That is not an exaggeration. They took an approved photo with her and that was it.
"No small talk. No banter. No 'I can pretend I care a slight bit for you because you support me, you tweeted about me and my projects thousands of times, you buy my music, and you travelled so far, while paying for your own taxis, three days of meals, new outfits to meet me in, and federal and state taxes on this prize. Let me hear the one sentence you've always dreamed about telling me'."
Ariana tweeted another fan to explain: "A fan gave me a photo of me & my grandpa. I walked away because I didn't want them to see me start to cry. I am still in mourning and I wrote a letter to have sent to her afterward but MTV told me they had already left.
"My heart is still healing and it's moments like that that make it real again that he's gone...wasn't expecting it and [it] hit me like a ton of bricks."
But the photo fan's sister tweeted: "@ArianaGrande My sister & I were huge fans. u made @HerNamesJen extremely sad by walking away from her & telling me to delete all my pics...@ArianaGrande my sister & i sympathized with u bc we recently lost our grandpa too.. u didn't even give us a chance to tell u that :(."
Ariana had previously revealed that her grandfather had died of cancer in July and thanked fans for their support.
Source: music.uk.msn.com
Added automatically
941 views