News
Redfoo glassed at Australian bar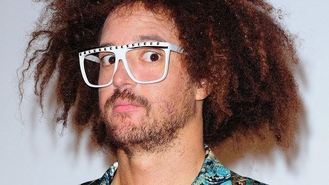 Redfoo has been the victim of a glassing attack at a bar in Sydney.
The DJ and producer was struck by the glass in an apparently unprovoked attack at the Golden Sheaf Hotel in Double Bay, Sydney.
A 21-year-old man, said to be a total stranger, is alleged to have thrown the glass at Redfoo, cutting him under his eye.
Redfoo told Sydney's Daily Telegraph: "It was a crazy occurrence. We were sitting in the back area with my mates, surrounded by some thangs. We are dancing, having a good time, we're taking some pictures, taking the snapchats... We were about to round up the party and take it home to the after party, as we normally do.
"All of a sudden out of nowhere a glass hits me in the head and I look over to see who might have thrown it and I see kind of a dodgy fella trying to flee the scene... I looked down at my hand and there was blood all over my hand. There's blood on the dance floor and I'm bleeding. That just makes you a little more upset.
"So I go and I try to chase him out but they're holding me back. I wanted to see what the guy looks like, I've got to see his face... He starts blowing me kisses and winking at me like, yeah sucker... It was unbelievable, like I had been hit in the head with an axe, unbelievable."
Security managed to stop the man at the door, who was arrested and granted bail to appear in court next month.
Redfoo, the youngest son of Motown Records founder Berry Gordy, has otherwise been popular in Australia, where he is well known for his LMFAO hits Party Rockers and Sexy And I Know It with nephew Sky Blu, and as a judge on Australian X Factor.
Source: music.uk.msn.com
Added automatically
1021 views