News
Bloc Party no to anniversary tour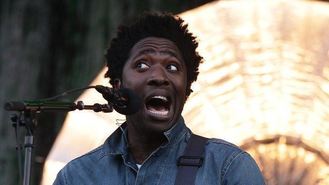 Bloc Party won't be doing an anniversary tour because singer Kele Okereke has said the idea of it makes him cringe.
The band's debut album Silent Alarm is approaching its 10th anniversary, but Kele said he wouldn't be marking it with any special shows as they would be a "cynical" move.
He told Music Feeds: "I think the most impressive thing that we could do as a band would be to respond [by] looking forward and keep on making music to say that we're still motivated.
"I think that's more important than revival or some kind of nostalgic experience. I feel that the band isn't some record - at this point it's a collection of records - and I feel that the best way to honour that would be to make more records, not just to look back to where we were."
He continued: "I don't think that sort of thing does much good for artists. I always cringe a little bit when you hear about bands going around just touring on a kind of anniversary record. I feel that it just seems a little bit cynical."
Last summer, the band's guitarist Russell Lissack said that Bloc Party would be taking a break: "Definitely after we finish the festivals in the summer we'll be taking some time off. At least six months, maybe a year, maybe two years, it's hard to say."
Kele has now added about the length of the break: "No idea. I've been speaking to Russell, he's just had a baby so I think he's going to be out of action for a while."
Source: music.uk.msn.com
Added by AutoAdmin
685 views