News
Swift: I've faced death threats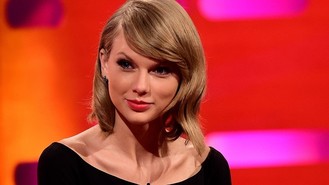 Taylor Swift has opened up about the darker side of being a pop star.
The Welcome To New York singer, 24, said she didn't want a security presence but felt that it was the only way to feel safe.
She told Esquire magazine: "I fought the idea of having security for a very long time, because I really value normalcy.
"I like to be able to take a drive by myself. Haven't done that in six years."
But she added: "They have to be in a car behind me. Because just the sheer number of men we have in a file who have showed up at my house, showed up at my mom's house, threatened to either kill me, kidnap me, or marry me."
Taylor added: "This is the strange and sad part of my life that I try not to think about.
"I try to be lighthearted about it, because I don't ever want to be scared. I don't want to be walking down the street scared. And when I have security, I don't have to be scared."
The Out Of The Woods singer also said that there was nothing remarkable about her love life, despite the amount of interest it creates from the media.
"I would date someone, figure out we weren't compatible or figure out we didn't work out, and then we'd break up," she said. "That seems like a very normal thing for a young 20-something to do."
And she told Esquire she was taking a break from dating .
"I really didn't like the whole serial-dater thing. I thought it was a really sexist angle on my life.
"And so I just stopped dating people, because it meant a lot to me to set the record straight - that I do not need some guy around in order to get inspiration, in order to make a great record, in order to live my life, in order to feel OK about myself. And I wanted to show my fans the same thing."
Source: www.msn.com
Added by AutoAdmin
594 views