News
Robbie bored of being rock star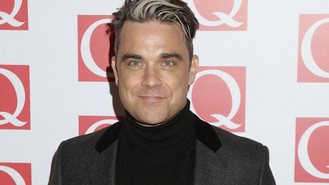 Robbie Williams has teased he could swap making music for fixing cars.
The Rock DJ singer made the "very big announcement" on his official YouTube channel, where he said he is looking for a change of career.
"To be quite honest with you, I'm getting a bit bored of the pop star/rock star thing. I've been very lucky and had an amazing career but I want to do something different," the 40-year-old star said.
Robbie - whose wife Ayda gave birth to their second child, son Charlton Valentine on October 27 - said he is now looking for a "job job" in Germany.
"You know how much I love the grand gesture. I want to do something different that involves living with you in Germany... For the first time in my life, I want a proper job. I'm a daddy now and I feel it's only right that I should have one," he continued.
The 40-year-old star, who has taken part in charity football match Soccer Aid and has his own fashion range Farrell, said he had thought of becoming a footballer but felt "too old", before considering the fashion and car-making industries.
"I've been thinking through my options of what my job job could be and I thought soccer in Germany maybe, and then I thought I'm too old. I thought something to do with fashion in Germany but no, I'm too fat," he said.
"And then I thought to myself, Germany's got amazing cars. Give me a call."
Fans were quick to dismiss the announcement as a joke with one writing: "Amazing how so many seem to fall for this," while o thers considered it to be a midlife crisis: "The car business..you will never see your wife and kids..I know ..the hours are so long..this is either a mid life crisis, or you're having a bad day.."
Robbie, formerly in Take That, is set to hit the road for his Let Me Entertain You world tour, which kicks off in Spain on March 25, 2015.
Source: www.msn.com
Added automatically
863 views