News
Suge Knight 'confused before hit-and-run'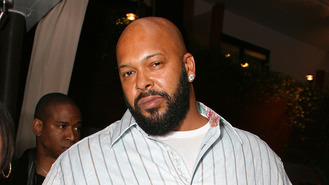 Suge Knight reportedly argues he didn't realise his car hit two men.
The Death Row Records co-founder was arrested for murder on Friday, following a hit-and-run the previous afternoon in Los Angeles, in which one man was killed.
Now TMZ claims the 49-year-old's defence is that he didn't realise what had happened. According to the outlet, he argues he was fearing for his life when he drove off in a red Ford pickup, allegedly hitting and killing Terry Carter and injuring Cle 'Bone' Sloan.
Knight apparently claims he was beaten by two to four men just before and that his health was compromised due to being shot last summer and recently suffering from a blood clot.
All of this allegedly led to him feeling so confused when he drove off that he didn't realise what he was doing.
However, police reportedly believe that he intentionally tried to run over Sloan, accidentally hitting Carter. This would mean that even if he gets cleared of a hit-and-run, he would still be chargeable for felony murder.
Over the weekend it was also reported security cameras at the site of the incident, fast food outlet Tam's Burgers, were not working. The lack of surveillance coverage could pose a problem for the case, with police apparently searching for anyone who may have recorded the incident on a phone.
Knight turned himself in on Friday and is being held on $2 million bail.
Knight's lawyer James Blatt has seemingly confirmed the accident and that the music star was behind the wheel at the time - although he suggests the people who were hit were not who Knight had been disagreeing with.
"He was in the process of being physically assaulted by two men and in an effort to escape he unfortunately hit two [other] individuals," he said earlier today. "He was in his car trying to escape."
Source: www.msn.com
Added automatically
717 views