News
Jimmy Page promises more Led Zeppelin surprises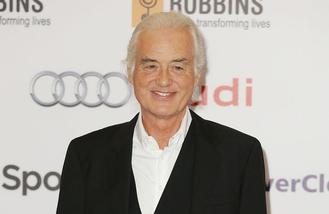 Jimmy Page insists he is "not holding anything back" from the reissued Led Zeppelin albums.
The 71-year-old guitarist has been busy over the past couple of years remastering the legendary rock band's back catalogue and searching through archives for unheard material for companion discs for each LP.
Page has promised fans there is more to come on the final releases in the series and they should expect a few surprises, especially on final LP 'Coda' which was made after the death of drummer John Bonham in 1980.
Speaking at the launch of the latest remastered album, 'Physical Graffiti', this week, he said: "I'm not holding anything back, we've got three more albums to come anyway so let's see what comes out. We've got 'Presence' coming, 'In Through the Out Door' coming and 'Coda' and 'Coda' at the time was the result of things that were pulled in from the past because we didn't have John Bonham at that time."
Smiling, Page added: "I'll just let you think about what's coming and I won't confirm it until it's done."
The rock star is very excited about the release of 'Physical Graffiti', which comes with an extra disc containing seven previously unreleased tracks, including rough mixes of 'In My Time of Dying' and 'Houses of the Holy' and a very early recording of 'Trampled Under Foot' entitled 'Brandy & Coke'.
The musician insists he and his bandmates - sticksman John, singer Robert Plant and bassist John Paul Jones - wanted to blow people away with the LP when the first released it and he thinks it's just as powerful now.
He said: "We wanted to make an album that was going to knock everyone's socks off with both how it sounded and how it looked, all of it. It approaches all different areas, it has acoustic as well, the whole of the album is a tour de force. We were also really keen to make sure that the packaging and the artwork were great. Everyone was paying so much attention to the artwork right across the world, and not just to Led Zeppelin. We wanted artwork that would compliment everything on the album. It's attention to detail in every respect."
'Physical Graffiti' is available from February 23, almost 40 years to the day after the LP's original February 24, 1975, release.
Source: www.msn.com
Added automatically
669 views