News
Sam Smith reveals violent homophobic abuse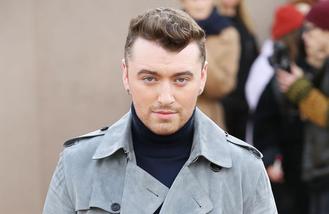 Sam Smith was violently attacked for being gay.
The 'Lay Me Down' hitmaker has revealed the extent of the homophobic abuse he had growing up, which included one incident in which he was punched unprovoked.
He recalled: "When I moved to London I got punched in the neck walking back from work. It was definitely homophobic. I was on the phone speaking quite loudly and had pink headphones on so it was pretty clear I was gay."
The 22-year-old singer's torment started when he was just 11, when he would be teased by other children at school, but he admitted the insults continued throughout his teenage years.
He said: "A bunch of boys from a rival school would shout insults at me as I walked from my home to the train station.
"I remember walking to the station getting 'f*****' shouted at me all the time.
"It was the most mortifying thing. Not so much for me. I knew these people were stupid, uneducated t****.
"But I was upset as I was with my friends and I wondered if they were embarrassed to be walking with me because people are hurling abuse."
However, the four-time Grammy Award winning star was also humiliated by other gay men, and believes there needs to be a much higher level of acceptance in society.
He explained: "When I was 17 I decided to go gay clubbing in Soho in London.
"I remember walking in and this gay guy turned to his mate and said something really nasty about me.
"My whole world just crashed and I had a really lonely feeling.
"I knew then it was going to take a lot longer to be accepted. There's a lot of homophobia and bullying in the gay community."
Sam - who was speaking at The Metro Centre in London, which provides help to young lesbian, gay, bisexual and transgender people who have been outcast by their families - added it's vital the gay community supports each other.
He told The Sun newspaper: "There's also a lot of body dysmorphia in the gay community, which means if you're not toned and skinny it can be awful."
Source: www.msn.com
Added automatically
738 views