News
Britney Spears declares her love for boyfriend Charlie Ebersol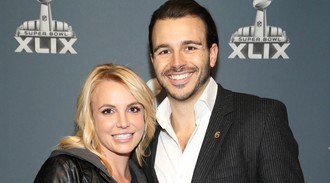 Britney Spears can't contain her excitement at how happy she is with new boyfriend Charlie Ebersol.
The Womaniser singer has been dating Charlie for five months, but has already hinted that marriage may be on the cards and wears a costume proclaiming her love for him when she performs on stage.
She told Extra: "I'm very blessed to have him as part of my life."
Talking about a waistcoat she wears that says 'I heart Charlie' in gold sequins during her Las Vegas residency shows, she said: "He's like, 'You're the sweetest girlfriend in the whole world.' He was really happy that I did that. It's kinda cool."
Asked whether the future held wedding bells for them, she teased: "You never know. Who knows?"
Britney also spoke about a song that she recorded with Iggy Azalea.
Asked when fans would be able to hear it, she replied: "You'll have to wait and see. It's really exciting though. It's very cool, I'll say that… I saw her song on TV and I was like a kid in a candy store. I was like, 'I love Iggy!' I was like, 'I love that video. I wanna work with her.'
"And it was really weird, because a week after that her manager was like, 'She's a huge fan of yours.' I was like, 'Let's do something together,' so it worked out."
Source: www.msn.com
Added automatically
697 views