News
Taylor Swift celebrates her dad's birthday with unbelievable makeup-free selfie and Swifties lose their minds!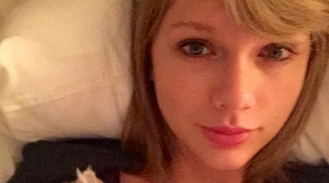 It doesn't take much for Taylor Swift fans to completely lose their minds by anything the most successful artist in the world, her official title, posts online, but when Taylor Swift basically woke up, like she does every morning, Swifties went berzerk like a Directioner taking a bath with Harry Styles berserk.
The pop megastar, who spoke to a dying fan on FaceTime this week, basically took a makeup selfie first thing in the morning and we're not going to lie, the results are astonishing. Taylor Swift is officially a cocktail of perfection from the moment she wakes up to the moment she goes to sleep.
If we posted a makeup free selfie we'd literally get banned from all social media. For life. But Swifty's got the whole world in a complete fizz. "I woke up like thisss," wrote the singer on Instagram, with affectionate little nod to her beloved cat Olivia Benson. Literally the cosiest snap of the year goes to Taylor and her BFF. Can we get involved please?
The Blank Space trooper later won at everything as per when she carried on radiating he natural beauty throughout the afternoon celebrating her dad's birthday. If he didn't cry at his prized pop princess's post then we did for him.
Taylor Swift's Makeup-Free Selfie Is Purrfect: See It Now! http://t.co/xUddRiODch

— Taylor Swift (@TaylorUpdate) March 6, 2015
Why is Taylor Swift so incredibly gorgeous? I mean, how does one look so flawless makeup-free?

— Khaleimy☪ (@Khaly_Mgc) March 6, 2015
"@taylorswift13: I woke up like thissssssss (With a cat on me) pic.twitter.com/SZBeXI6AEG" she looks more beautiful and stunning like this tbh

— kiara (@cumwithcam) March 6, 2015
"Happy Birthday, Dad. Thanks for all the unconditional love, sarcastic comments, and interesting Christmas presents," alongside an adorable shot together with Taylor looking totally baffled by a set of synthetic flamingoes. As far interesting Christmas presents go, Taylor you win.
Source: www.msn.com
Added automatically
817 views