News
Zayn Malik: I didn't cheat on Perrie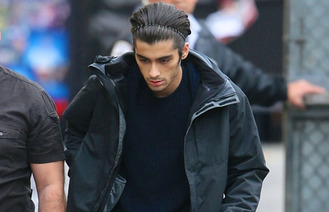 With millions of girls around the world throwing themselves at him on a daily basis, it's not exactly a surprise to hear that Zayn Malik has been accused of cheating on fiancee Perrie Edwards several times, but so far he's denied the allegations levelled at him by club promoter Martina Olsson who said she was one of at least two women he had sex with recently in Thailand.
With millions of fans around the world, the cheating on tour thing isn't exactly a new scandal, but it looks like for Zayn thanks to social media what happens on tour doesn't stay there.
The 24 year-old spilled all the alleged details about her liaison with the now ex-One Direction star in an interview with The Sun this weekend and urged the Little Mix star to dump Zayn, claiming he's a serial cheater.
Who knew one trip to Thailand could cause so much trouble? Malik has been accused of cheating with two separate girls while partying in South East Asia and ended up quitting One Direction, as he struggled to cope with the fallout. Olsson claimed she had sex at least twice with Malik while 1D were on the Thai leg of their On The Road Again tour, where he was alleged to have slept with another girl as well.
A spokesperson for the singer, who broke hearts all over the world when he quit the boyband last week, outright denied he'd been playing away: "Zayn completely denies any allegation that he had sex with Martina Olsson."
But according to Olsson, who has pictures of herself with the Bradford native in Thailand, Zayn definitely doesn't act like he's about to walk down the aisle and had a message for his future wife.
"Perrie should not stay with Zayn any longer because he has cheated on her and continues to lie about it," she told The Sun.
"It is not the first time either, so maybe she will walk away."
It didn't look like it this weekend as Perrie and Zayn viewed a £2 million, 7-bedroom mansion in North London, the first time they've been pictured together since the cheating allegations kicked off a chain of events that saw Malik quit One Direction. Strangely, Zayn also did an interview with The Sun this weekend and while he didn't address the cheating rumours confirmed he and Perrie were still together calling her a "good girl," and said she's "always supportive," of his decisions.
Source: www.msn.com
Added automatically
685 views