News
Iggy Azalea insists she and Britney Spears are still friends after critical tweets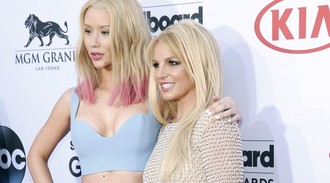 Iggy Azalea has insisted she never meant to criticise Britney Spears when she complained about the lack of promotion for their joint single Pretty Girls.
She told her Twitter followers, "I'm not attacking anyone", and added, "I think Britney is great", blaming the media for putting "words in my mouth".
The Fancy rapper sparked rage among Britney fans when she complained about the response to Pretty Girls – and seemed to imply that Britney had let the team down.
She tweeted: "It's difficult to send a song up the charts without additional promo and tv performances etc. unfortunately I'm just featured."
The 25-year-old continued: "i would have enjoyed performing it alot, i think it got off to a powerful start. but you need content to compete in 2015."
Later she added: "my comment is factual, it applies to any song. I dont have to suck the womans a****** 24/7 to be her friend, do i? bye girls."
Iggy later defended her comments, telling one Britney fan: "its really not something you should feel mad or aggressive about. i love the song and i think Britney is great. why be angry?"
She continued: "i really love the song, and actually never said anything negative, only that i think there was room to do more with it."
Meanwhile, Britney put out a tweet to promote her Piece Of Me concerts which seemed to contain a dig at Iggy for her Twitter outburst – though she doesn't mention the Australian rapper by name.
Fans have interpreted Britney's comment, "So thankful I have shows for the rest of the year to look forward to", as a brag about her own success in comparison to Iggy's cancelled Great Escape tour.
#YouWantAPieceOfMe, a line from her song, is also – shall we say – situation-appropriate.
The duo collaborated on Pretty Girls, which was released as a music video on May 13 and peaked at only 29 in the Billboard Hot 100 charts.
Source: www.msn.com
Added automatically
804 views