News
Ryan Adams releases Taylor Swift covers album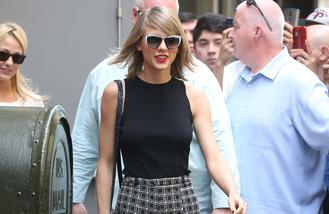 Ryan Adams has released a cover of Taylor Swift's '1989' album.
The 40-year-old singer-songwriter - who was previously married to actress Mandy Moore - has reinterpreted Taylor's 80s-inspired record with a rockier sound and even the 25-year-old musician is impressed.
When Taylor first heard about the album, she took to social media to write: "Cool I'm not gonna be able to sleep tonight or ever again and I'm going to celebrate today every year as a holiday. I'M CALM."
She also tweeted: "Ryan's music helped shape my songwriting. This is surreal and dreamlike. Countdown to #RyanAdams1989 @TheRyanAdams (sic)."
And she has been busy retweeting compliments about the record since its release in the early hours of Monday morning (21.09.15).
Messages of praise included her pal Lena Dunham writing: "Holy heck y'all. Just heard @TheRyanAdams #1989 cover album and it's a masterwork. @taylorswift13 as you never imagined," and up and coming singer Fletcher who tweeted: "This is EVERYTHING @taylorswift13 @TheRyanAdams (sic)."
The album was released on both iTunes and Spotify, the streaming service Taylor famously pulled her music from earlier this year.
Speaking about her decision to do so, she said: "[People] can still listen to my music if they get it on iTunes. I'm always up for trying something. And I tried it and I didn't like the way it felt. I think there should be an inherent value placed on art.
"I didn't see that happening, perception-wise, when I put my music on Spotify. Everybody's complaining about how music sales are shrinking, but nobody's changing the way they're doing things. They keep running towards streaming, which is, for the most part, what has been shrinking the numbers of paid album sales."
Source: www.msn.com
Added by AutoAdmin
538 views