News
Sir Paul McCartney switches vocals with Michael Jackson for Say Say Say remix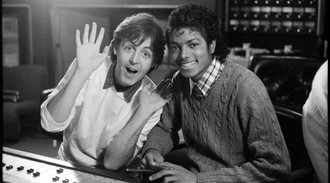 Sir Paul McCartney and Michael Jackson swap vocals as a new remix and video of their duet, Say Say Say, is unveiled – 32 years after its original release.
Sir Paul's chief engineer Steve Orchard and Mark "Spike" Stent, who has worked with Madonna, U2 and Beyonce, have remixed the latest version of the song, which features previously unheard vocals from Michael, who died in June 2009 at the age of 50.
The extended track – which is over three minutes longer than the original 1983 single – opens with Jacko rather than Sir Paul, and is featured in the re-issued edition of his Pipes Of Peace album.
Steve said: "Paul remembered that there were two unused lead vocal performances by Michael and himself. We rearranged the vocal sequence and inverted the original performance so that Michael opened the first verse instead of Paul, to give the song a different take to the original version."
The single's accompanying video, which has been launched on Sir Paul's Facebook page, has been created by Ryan Heffington, who has worked with Sia and Lady Gaga.
Paul McCartney – Paul McCartney and Michael Jackson 'Say… | Facebook

While Sir Paul and Michael starred as travelling con merchants in the Wild West in the original video, the new visuals follow a teenage boy on a journey through his neighbourhood.
The collaboration between the 73-year-old former Beatle and the late Michael started with a phone call, when the Thriller star contacted him over the telephone.
Sir Paul said: "He (Michael) rang me up, and I didn't believe it was him, so I said, 'Who's this?' He said, 'Michael'… Anyway, we had a joke about that kind of thing, and he said, 'Yeah, I'd like to come over and write with you', so I said great.
"So he came over to England and we just sat down. I thought, well, it's not easy to just sit down with anyone you don't know and just write, start songwriting because you've got to get the chemistry right. But I thought, it is Michael – you know, I'll just try! If it doesn't work, we'll just throw it away…"
The song was a hit upon its release, and topped the singles charts in Canada, Norway and Sweden and the US, where it remained in the Billboard Hot 100 for six weeks in 1983. It hit the second spot in the UK.
Source: www.msn.com
Added automatically
681 views