News
D.I.D record 'miserable' Christmas song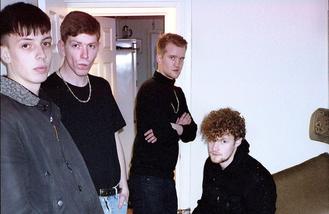 D.I.D have made "a miserable" Christmas song.
The alt-rockers - formerly known as Dog Is Dead - have penned and recorded the track 'TV Christmas' and head Grinch, Rob Milton, revealed it has always been his "personal goal" for many years to create a gloomy festive track.
Vocalist Rob is joined in the group by Joss Van Wilder, Daniel Harvey, Lawrence 'Trev' Cole, Rob 'Paul Roberts' White, and is really "excited" for people's reactions to the track.
He exclusively told BANG Showbiz: "We've done a Christmas song, 'TV Christmas', which is really exciting for us, because it's been my personal goal to write a really miserable Christmas song for the past four years. I always left it too late but now I've done it and I'm really excited it's out."
However, the single comes paired with an even more "melancholy" track called 'Heavy Cloud' and both will feature on the band's debut album due out in 2016.
Speaking about the song, they explained: "'Heavy Cloud' is probably the most introspective and melancholy single we've released. The song is basically about the weight of anxiety, acceptance and moving forward. Collectively it's one of the bands favourite songs from the album and a nod to which direction we are heading in sonically."
Meanwhile, ironically the rockers felt compelled to change their name from morbid Dog Is Dead because they are "big dog lovers".
Rob added: "We wanted a fresh outlook really and wanted to come back and do our own thing differently. The fans will still call us what we want, but we made up that name when we were like 15 years old for a school talent show and we're all big dog lovers so it doesn't bode well."
Source: www.msn.com
Added automatically
710 views