News
Watch Tom Yorke perform two new suspected Radiohead songs in Paris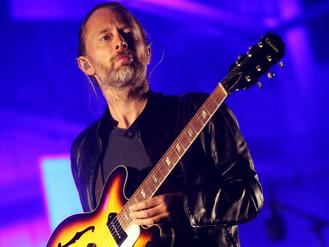 Radiohead frontman Thom Yorke has potentially debuted two tracks from the band's upcoming album.
The songs were quietly introduced to Yorke's recent solo acoustic set for Pathway to Paris, an event coinciding with the UN Climate Change Conference in the city alongside performances by Patti Smith and Flea from Red Hot Chili Peppers. One titled "Silent Spring" and the other "Desert Island Disk"; these tracks may just be victim to idle rumours, but surfacing footage of the gig highlights something which will no doubt be of great interest to fans. At 02:28 on the video for "Silent Spring", Yorke is heard saying "this is Jonny's bit, which I can't play". Jonny, of course, referencing the band's lead guitarist Jonny Greenwood.
There's yet to be any form of official confirmation of the album completing production. When fans started mistakenly believing the album was wrapped up in October, Yorke and Greenwood were quick to clarify on Twitter that this was a mistranslation and that work still had a way to go. That's not to say that a couple of songs can't have been finished and set to test on unwitting audience members, which may or may not be the case here.
The new album will be the band's first release since 2011's The King of Limbs. There's no release date confirmed so far.
Source: www.msn.com
Added automatically
771 views