News
Bonnie Lou: Singer and radio presenter who crossed over into rock'n'roll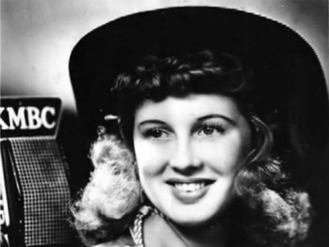 Bonnie Lou was a pioneering singer who became one of the first country artists to cross over into rock'n'roll. She later became a popular television presenter.
Born Mary Joan Kath in Towanda, Illinois, she began playing the violin and guitar as a child, and by the time she was 16 she was appearing on local radio stations in the Midwest. Her break came a year later when she was signed to a contract to perform with a band as Sally Carson and The Rhythm Rangers in a barn dance radio show that was broadcast across the US, Brush Creek Follies.
She became known for her yodelling – she learned from her Swiss grandmother – and, changing her name to Bonnie Lou, she was featured on a show that became The Midwestern Hayride, a country and western radio broadcast from Cincinnati. This led to tours and eventually several performances at the Grand Ole Opry in Nashville.
Lou remained a radio fixture throughout the 1940s. In the 1950s she had Top 10 country hits with "Tennessee Wig Walk" and "Seven Lonely Days", each selling around 750,000 copies. Moving into rockabilly, in 1954 she recorded the dance song "Two-Step Side-Step", written by Murry Wilson, whose sons became the Beach Boys. A year later, her first rock'n'roll record, "Daddy-O", rose to No 14 on the Billboard chart. She was later inducted into the Rockabilly Hall of Fame.
Moving into television, Lou co-hosted and sang on the popular Cincinnati programme, The Paul Dixon Show, and performed on the station's televised version of Midwestern Hayride, appearing regularly until the show ended in 1972. She also hosted Six Star Ranch, a radio show that was transmitted nationwide, and in for a few years the 1980s she hosted a weekend country music show in Middletown, Ohio.
She performed in public occasionally into her eighties, enjoying a resurgence of interest in her music at the turn of the century. Compilations of her songs have been released since 2000 and most of her recordings are available as downloads.
Lou was married to Glenn Ewins from 1945 until his death in a car accident in 1964. They had a daughter. Lou married her second husband, Okum, a furniture store owner and magician, in 1966. Together they appeared in television advertisements for the store.
Mary Joan Kath (Bonnie Lou), singer and presenter: born Towanda, Illinois 27 October 1924; twice married (one daughter); died Cincinnati 8 December 2015.
Source: www.msn.com
Added automatically
754 views