News
The Osmonds: We shouldn't have been friends with Led Zepplin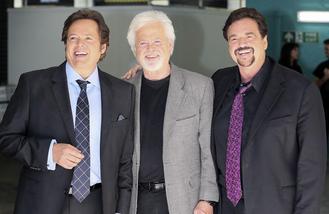 The Osmonds defied Led Zepplin's manager and the "rock press" when they duetted on stage.
The American band - which originally included Donny, Marie, Jimmy, Merrill, Jay, Alan and Wayne - say their pop group's clean image meant they weren't supposed to be friends with the 'Black Dog' rockers but, after they bumped into each other at a gig in London, they got on so well that Robert Plant invited them on stage to sing on their hit 'Stairway To Heaven'.
Jay Osmond, 60, exclusively told BANG Showbiz: "I remember we went in a day early because we were using Led Zepplin's sound equipment. And so we went in to watch them and those guys were so fun and cool.
"We went back stage and played frisbee with their kids and then they invited us to come up and play with them on 'Stair Way To Heaven'. And I'll never forget, The Osmonds and Led Zepplin on the same stage.
"It was just amazing; I am still amazed to this day."
Jimmy quipped: "The manager didn't want it to happen you know."
Despite their success the band - originally consisting of Donny, Marie, Jimmy, Alan, Wayne, Merrill and Jay - they said they "didn't fit the mould".
Jimmy, 52, shared: "Even though we'd had tonnes of number one hits. Still because we were this family, we were Christians, we just didn't fit in the mould. We still sold a hundred million records but still the rock press would never give us a break. But it actually worked to our benefit over the years."
But the trio - who play the 'Andy Williams Christmas Spectacular starring The Osmonds' at the O2 on December 16 - don't hold a grudge and still hang out with the likes of Robert Plan.
Merrill, 62, joked: "I literally learned that I have no enemies, because I've gotten so old I've outlived them all."
Source: www.msn.com
Added automatically
732 views