News
Selena Gomez shuns Taylor Swift's squad suggestion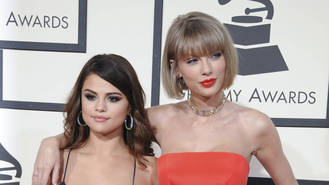 Selena Gomez vetoed pal Taylor Swift's idea to reunite their squad on stage for her Revival tour.
During her The 1989 Tour Taylor became renowned for performing with famous names from rock and pop, including close friend Selena, 23, who appeared onstage during the Los Angeles leg of the tour.
The Hands to Myself singer is part of Taylor's 'squad' of celebrity pals and appears in the video for her hit song Bad Blood alongside fellow squad members Gigi Hadid, actresses Mariska Hargitay, Hailee Steinfield and Cara Delevingne.
However when the 26-year-old suggested Selena get the squad together for her own Revival tour, which begins in Las Vegas on Friday (06May16), she didn't like the idea.
"I made a joke about this (getting the squad to join her on tour), Taylor was in the room, and she looked at me like, 'You should totally do that!' I was like, 'I can't have all those people come on my stage!' She's like, 'Why not?' 'Because I'm not Taylor Swift!'" Selena told Entertainment Weekly.
Selena explained she's not keen on bringing her famous friends on stage as she feels it would detract from her credibility as an artist, adding, "I've worked for my whole career, and I've always wanted it to be about that.
"I've been in so many situations where it's like, 'Oh, you're friends with this person? You're with that person?' All this credibility s**t that drives me crazy. I love being able to work with other artists I admire, but I have a lot to do on my own before I am willing to make it all about embracing other people," she added.
While embarking on her world tour, which will see her travel across North America, Europe, and Asia before finishing with three dates in Mexico in December (16), Selena wants to complete a new album.
"I'm in rehearsals during the day and in the studio at night. You hit those points in your life where you're super inspired," she smiled.
Source: www.msn.com
Added by AutoAdmin
400 views