News
Prince told pals he was 'doing fine' days before his death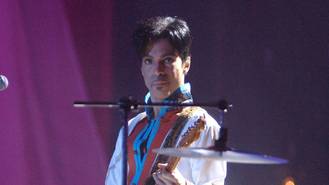 Prince assured his closest friends and associates he was fine days before his death.
Worried members of the music icon's inner circle attempted to get in touch with him following reports suggesting he was so ill after a gig in Atlanta, Georgia a week before he died, the pilot of his private plane had to make an emergency landing in Illinois on the way home.
Prince brushed off the concerns and staged an invite-only party at his Paisley Park compound outside Minneapolis, Minnesota the next day - almost a week before his body was found in an elevator there on 21 April (16).
Sources told the New York Times that Prince also rode a bicycle in a mall parking lot in the days before his death, while his lawyer, L. Londell McMillan, insists there were no alarm bells to suggest his client was battling medical issues.
Prince told the attorney, "I'm doing perfect," according to the Times.
However, according to the publication, Prince told some friends he was feeling depressed, and fans who attended his last gig at Paisley Park have recalled the singer looking frail and gaunt onstage.
But it's clear Prince's representatives were worried about the star - they reached out to California-based addiction specialist Dr. Howard Kornfeld, who flew his son, Andrew, to Minnesota to assist Prince. Andrew was among those who found Prince's lifeless body in the elevator.
"The hope was to get him stabilised in Minnesota and convince him to come to Recovery Without Walls in Mill Valley," William J. Mauzy, a lawyer for the Kornfeld family, said during a news conference on Wednesday (04May16). "He (Dr. Kornfeld) felt it was a lifesaving mission."
It's still not clear how Prince died - and autopsy was completed on 22 April (16) and the results are still pending.
Meanwhile, famous U.S. addiction specialist Dr. Drew Pinsky is baffled by the fact Prince's representatives called Dr. Kornfeld for help when the premier treatment centre in the U.S. was a "few miles" from his home.
"The Hazelden City Center was within an hour of his house," he tells Access Hollywood. "They have an outpatient program, which was four miles from his house. The fact that someone didn't just throw him in a car and take him there is a travesty."
Source: www.msn.com
Added by AutoAdmin
378 views