News
Demi Lovato gives away cat due to allergies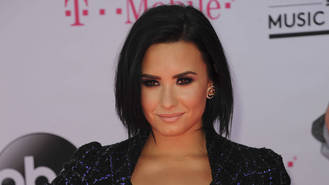 Pop star Demi Lovato had to give up her hairless pet cat because the puss was playing havoc with her allergies.
The Cool for the Summer hitmaker put her allergies to the test when she adopted her ironically-named Hairy-ette in late April (16), telling fans she was hoping that taking in a hairless moggy would solve her problem.
Demi showed off the new addition to her family in a series of posts on social media site Snapchat, before confessing getting close to her new fur-less friend had sparked an allergy flare up.
"As my face is swelling...", Demi wrote beside a picture of her holding the cat up to her face, prompting her to sneeze and tear up in a separate video clip.
"Already in love with each other," she declared in another photo, while defiantly vowing, "So allergic it's not even funny but I'm keeping her..."
Demi even let Hairy-ette sleep in her bed and she greeted her Snapchat fans the following morning by posting a "Good morning" snap of the pair snuggling between the sheets.
However, the singer/actress has revealed she had to give away little Hairy-ette hours after taking the bed photo.
"I couldn't keep the cat," she confessed to Entertainment Tonight. "I had to give it back the next day because I am allergic. I thought I wouldn't be because it doesn't have any hair but..."
Demi is known for her love of animals and Hairy-ette's adoption came four months after she and her boyfriend, Wilmer Valderrama, mourned the death of the actor's pooch Spawn in December (15). It was the second pet loss the couple suffered after another dog, named Buddy, died in a tragic accident last summer (15).
Source: www.msn.com
Added by AutoAdmin
378 views