News
Pink: 'Having a successful family life is my priority'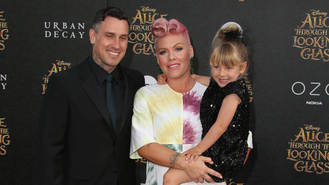 Pop star Pink will do whatever it takes to ensure she has a "successful family" after growing up in a broken home.
The singer's insurance salesman father, Jim Moore, split from her mother, Judy, before she turned 10 and Pink is determined not to let her four-year-old daughter Willow experience the same family drama.
"I love being a mama," Pink told U.S. breakfast show Good Morning America. "I made a choice a long time ago that I was going to have a successful family, and that is my absolute number one goal in life."
But Willow's mum and dad Carey Hart had a few relationship bumps shortly after they wed in 2006, and briefly separated in 2008. The stars reunited and rekindled their relationship, before welcoming their little girl in 2011.
Pink admits she's busy juggling her music career with her responsibilities as a parent, and although she is keen to add to her family, she confesses Carey, 40, can be a handful at times, too.
"I feel like I have two kids right now!" she joked. "I would like a third. I wanna say that Carey Hart's an awesome husband and a really good dad, but he's also like a second child!"
The 36-year-old also revealed she would "absolutely" be open to adoption.
Meanwhile, Pink used the interview to address the online culture of body-shaming - something she has experienced herself.
"There's so many different kinds of bodies," she said. "How can you shame one over the other? My thing is, if you have all four limbs and all five senses, you're doing A-OK. And anybody that has an issue with that needs to find some gratitude."
Source: www.msn.com
Added by AutoAdmin
390 views