News
Teacher's advice turned Pitbull's life around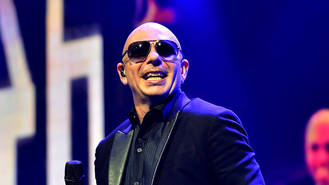 Rapper Pitbull credits an old teacher with turning his life around by encouraging him to take risks and chase his music dreams.
The Cuban-American Fireball hitmaker has been open about his poverty-stricken upbringing in the past, and admits his life could have taken a turn for the worse had it not been for some advice from one particularly supportive teacher.
"(She told me), 'The biggest risk you take in life is not taking one'," he shared at a school fundraiser in Florida on Wednesday (01Feb17). "She changed my life."
Pitbull will also always remember the wise words from his grandmother, who told him as a child: "Do your very best, you were born in the United States of America so take full advantage of every opportunity, take full advantage of your freedom."
The hip-hop star was invited to speak at the Kravis Center for the Palm Beach State College Foundation's STEAM initiative, which focuses on education in science, technology, engineering, arts and mathematics.
Pitbull heads up his own free public high school, the Sports Leadership and Management (SLAM) academy, which is dedicated to students eager to pursue careers in the athletics field, and he hopes his efforts to motivate kids from troubled backgrounds across the U.S. will help them realise their true potential - just like he did at their age.
"If it wasn't for basketball to keep me out of a lot of trouble (my life would be very different)...," he told The Palm Beach Post. "Basketball was my escape and music was my saviour."
And despite his huge musical success, Pitbull wants his legacy to be all about his philanthropic efforts.
Asked how he would like to be remembered, he replied, "As somebody who just cared. Because that's really the truth."
"The bottom line: All around the world, the majority of us don't care about poverty," he continued. "I want it to be said he helped his culture, he helped his city, the country, the world... because he actually gave a s**t."
Source: www.msn.com
Added by AutoAdmin
330 views