News
Louis Tomlinson 'mends fences with ex Briana Jungwirth'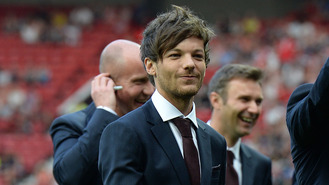 Newly single Louis Tomlinson has allegedly begun to repair his relationship with the mother of his son, Briana Jungwirth.
The One Direction singer, who recently split from his actress girlfriend Danielle Campbell, and the 25-year-old American came together recently to celebrate their son Freddie's first birthday following a bitter custody battle. Last year Louis reportedly filed a family court case against her in a bid to seek joint legal and physical custody of the boy.
The first signs of a thawing in relations came as Briana posted a video of the boyband star at their son's party on her Instagram in January (16). Louis, who only ever enjoyed a brief fling with Briana, is seen holding Freddie, as his ex-flame holds the little boy's birthday cake.
"Things have turned around since Louis became single again," an insider told Heat magazine.
Briana was never keen on Louis's ex-girlfriend Danielle, and after pictures surfaced of the U.S. actress enjoying a beach day in Malibu with Louis and Freddie in July, she slammed her on Twitter writing "You can pretend all you want but you will NEVER be my baby son's mother."
Now that Louis is single, sources say he has taken tentative steps to repair relations with Briana, including being there for Freddie's bash and happily posing for pictures with his ex.
"Louis really wants to bury the hatchet with Briana," added the insider. "He flew in specifically for the party, and Briana was obviously really touched. It's one of the first happy moments they've all shared since Freddie was born. Louis would love them to be normal parents to their son."
It's been a tough start to the year for the 25-year-old, who lost his mother prematurely to cancer in December and then split with Danielle. Now he is reportedly planning to focus his energies on his music and Freddie.
Following his reunion with Briana, the source added that "old feelings resurfaced" and their amicable reunion may leave Briana wanting more than friendship.
Source: www.msn.com
Added by AutoAdmin
319 views