News
John Legend taking baby Luna on tour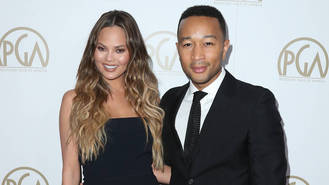 John Legend and wife Chrissy Teigen will be hitting the road with their baby for the musical maestro's upcoming tour.
On Monday (06Feb17), John announced he will kick off his Darkness And Light Tour this May (17) in support of his fifth studio LP of the same name. Beginning in Miami on 12 May, the tour will wrap up in New Orleans in June.
Now the Ordinary People singer is a father, he has made some adjustments to his touring plans, revealing during a Facebook Live session on Monday night that nine-month-old daughter Luna Simone will be joining him on the tour.
"The awesome part of this tour is my family is coming along," revealed in answer to a fan question on how be balances fatherhood and artistry. "This'll be Luna's first tour. She'll be there, so I won't have to spend a lot of time away from my family. That's the subtitle of the tour: Darkness And Light Tour: Luna's First Tour."
Luna's model mother will be on hand too, to make the singer's trek a family affair. However, John may have to make some concessions to his new roadies when it comes to their downtime, as the pair has decidedly different tastes when it comes to television viewing.
"If it were just me, watching television all day, I would watch sports and the news, with a little bit of comedy thrown in," he shared. "She would watch… a little bit of the news and (a) comedy, but with a lot more Housewives."
The couple has made no secret of their desire to have another child and is hoping to add to their family in the near future.
"A little boy is next, for sure," Chrissy smiled during an interview with Entertainment Tonight, at the Producers Guild Awards last month (Jan17).
Tickets for John's Darkness And Light Tour go on sale Friday (10Feb).
Source: www.msn.com
Added automatically
572 views