News
Mariah Carey: YG was the 'perfect' collaborator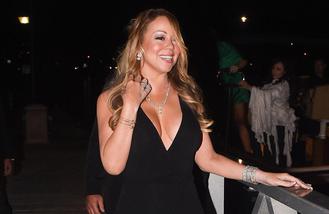 Mariah Carey says YG was the "perfect" collaborator for her new single 'I Don't'.
The 46-year-old singer teamed up with the 'Why You Always Hatin?' rapper for the single - which was teased on the final episode of her reality show 'Mariah's World' and officially released on February 3 - and has said the star was the perfect person to work with because he was so "focused in the studio".
She said: "[YG] was very focused in the studio. He wrote his rhyme and then out of nowhere, he came up with the 'I know you love me' part and I loved that section. I feel like he was a perfect collaboration because he really focuses on what he's doing."
And the 'Without You' hitmaker admits she always knew she wanted someone to join her on the track, but was only put in touch with YG, 26, after her agent Chris Hart recommended him "24 hours" before the song was finished.
Mariah added: "I knew we would want someone featured on it but it wasn't until Chris Hart, my agent, was like, 'Do you know YG? We rep him. Would you want to put him on a song?' And I was like, 'Of course.'
"So we got together, and it was literally 24 hours from the intro to the completion of the whole thing. I loved working with him in the studio as well.
"He actually got the idea to do that little singing part in the middle of recording and then we kind of moved it around afterwards.
"I loved starting the record off with him because it feels like more of a collaboration."
The 'We Belong Together' singer also recently dropped the video for 'I Don't' which sees her set fire to the dress she was supposed to marry ex-fiancé James Packer in before they cancelled their engagement.
Now, the beauty says she's "always wanted" to perform the stunt in a video.
She told Billboard magazine: "I've always wanted to burn a wedding dress in a video. So we took this opportunity to do that because in the 'We Belong Together' video, I told [director] Brett Ratner in post, I wanted to burn the train of the wedding dress, which was actually the real wedding dress that I wore in one of my many endeavours into marriage. He wouldn't light the train up so I was like, 'You know what? I'm gonna do this myself.'"
Source: www.msn.com
Added automatically
598 views